Greg Stumbo

Speaker of the House

Jack Conway

U.S. Senate Candidate

House Democratic Caucus

Campaign Committee

Senate Democratic Caucus

Campaign Committee

Our staff of experienced professionals will help direct a fundraising plan that is customized to your campaign and budget.
We provide planning, budgeting, key contributor and prospect identification, and advance work related to events. We provide online credit card fundraising in addition to event planning and managing a comprehensive hands-on call time program.
Donors can contribute to your campaign immediately using their credit card from your website and from a email link. Funds are deposited directly and immediately into your campaign checking account.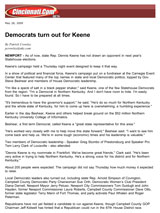 Contributors get immediate written confirmation of their donation, and have the ability to defer their actual cash outlay 30 days or longer, often leading to additional impulse donations and larger donation amounts.
For additional information on fundraising, read "Developing A Fundraising Donor Plan – In a Close Race or During Economic Hard Times, Every Donor Must be Cultivated" by Kathy Groob.